About wild things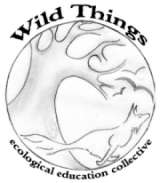 Wild Things Ecological Education Collective provides high quality, tailored, learning experiences in the natural environment for 5 to 18 year olds.
Established as a social co-operative in Nottinghamshire since 1997, we work each year with around 1,000 children and young people from groups such as schools, play schemes, youth groups and life skills groups.
We aim; to help children and young people build a relationship with the natural world and an awareness of the diversity of other species, to illustrate basic ecological processes, and to encourage hands on participation in activities which will improve our local, and wider, environment.
We believe that social issues are at the heart of the challenge of caring for our environment, and provide activities which are designed to develop confidence, self esteem, communication, co-operation, and organisational skills to help enable children and young people rise to this challenge.
We provide a range of structured participatory learning adventures and activities, that range from short sessions to two day adventure programmes and ongoing courses.
We realise that the children and young people that could benefit most from these experiences are often the ones, that for a variety of reasons, are least able to access them. We aim to make our activities as accessible as possible by targeted funding, by working in partnership with other organisations, and where appropriate offering a sliding scale of charges.
Feed back
We would love to have feedback from you. you can e-mail us your suggestions..., etc.
Or write/phone us: Lawn Cottage, Wyver Lane, Belper, Derbyshire, DE56 2EF
Tel: 0845 4584727

WILD THINGS; ECOLOGICAL EDUCATION COLLECTIVE, LTD.
Company No. 3677411
Workers: Nick Robson, Kath Andrew, & Kate Milman
Registered Office: 73 Beech Avenue, Nottingham. NG7 7LR