A special opportunity to spend a longer amount of time in the woods with the whole group – planned in accordance with your group's needs.
Spending a night in nature can be a powerful and high impacting experience for children and young people that can create long lasting memories and change the way they see themselves and their place in the world.
Children and young people that we work with will more often than not ask if there is any chance that they could come back to the woods to spend the night. The desire to spend a night outside seems to be a natural progression of the thirst to explore, experience and learn, even for children who have never previously been in a forest before coming out to Wild Things. 
The experience of spending a night outside can have a profound effect on the confidence of the individual child as they rise to challenges and new experiences which they will never have thought themselves capable of.
Taking part in a camp has important social benefits for both the individual and the group as the shared experience can create bonds of trust, friendship and intimacy that will have long lasting effects on how the group functions together.
Time away from home can also have an important role to play in giving both children and young people essential respite from their normal everyday challenges and responsibilities.
The memories of a sky full of stars, watching the sunset, sitting around a campfire with friends or exciting night games may give children and young people memories that can play a part in nurturing on-going resilience and positive mental health. 
Wild Things is aware that for many children and young people camping out in nature is an experience that would not normally be accessible to them due to a diverse range of social and economic barriers. Wild Things is keen to work with groups to help overcome these barriers, for example helping your group access funding, being flexible with times and length of camp (i.e. young people with caring responsibilities may only have the ability to be away from home one night), or building programmes to overcome access issues (i.e. running all-girls camps for girls who may not be allowed to attend mixed gender overnight stays).
"I've never slept in a forest before - it was awesome!
I'll never forget it! "
WHAT WOULD A RESIDENTIAL LOOK LIKE?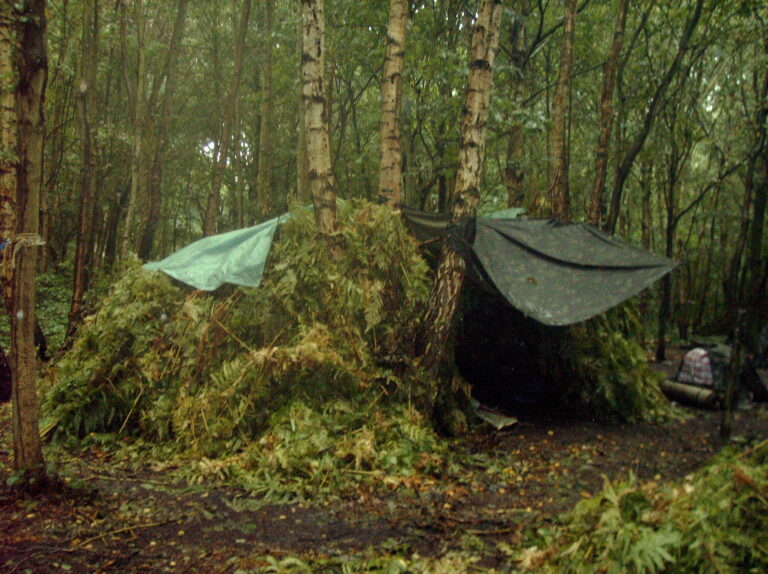 SMALL GROUPS
All of Wild Things over night experiences are for small groups, with a maximum of 12 children or young people participating.
rIGHT FOR YOUR GROUP
We offer a range of experiences to suit the needs and interests of your group. We can offer nights in survival shelters that the group builds, small group hammock camps, or camping in bell tents. All camps are held completely outside.
9 yEARS AND ABOVE
Wild Things over night stays are designed for children from age 9 up to young adult.
WOODS TO CHOOSE FROM
Residentials can be run at Bestwood Country Park near Nottingham or in Derbyshire.
THE PROGRAMME CAN INCLUDE:
Groups will be asked to input into the planning and design of their experience before the camp starts.
Forest School activities such as using tools, taking part in woodland craft and art projects, archery, fire starting using flint and steel, building shelters, exploring the woods, relaxing on a rope swing or in hammocks.
Teambuilding games such as fast paced wide games using orienteering, tracking games and team challenges. 
Night time team games and exploration.

Building and cooking on camp fires.
We have a range of sleeping bags and roll mats that your group is welcome to borrow.
" I have just seen the group who've been out to you at Shining Cliff - they are absolutely buzzing and can't stop talking about it - I've heard about grass snakes, night games and marsh mallows, a big woods with exciting caves and sheep and waterfalls - it sounds amazing! Thank you so much for giving our children and young people such a positive break from life in the City. Some of them would be on the streets all day and at risk, without this kind of opportunity. Days out with Wild Things have given them the respite they deserve from stressful situations in their everyday lives. They will never forget camping out..."
Please contact Wild Things for more information.
Wild Things are happy to work with your group to make a residential experience accessible. Please contact Wild Things for more information regarding funding or to discuss your group's needs.