Read about what we're getting up to every month!
– the first autumn Monday, 21st September 2020 –
"I'm so excited to be in the woods – I've waited so long to come!"  
(one of the girls on her first session)
The time has finally come for Wild Things and the children we work with to come back to the woods! We all received a beautifully sunny welcome from the woods of Bestwood Country Park, with the birches still vibrantly green and the buzzards calling above.
In the first half-term of the new school year we are working with nurture groups from the NG7 area (Forest Fields, Hyson Green, Radford) for children with English as an Additional Language and all-girls groups.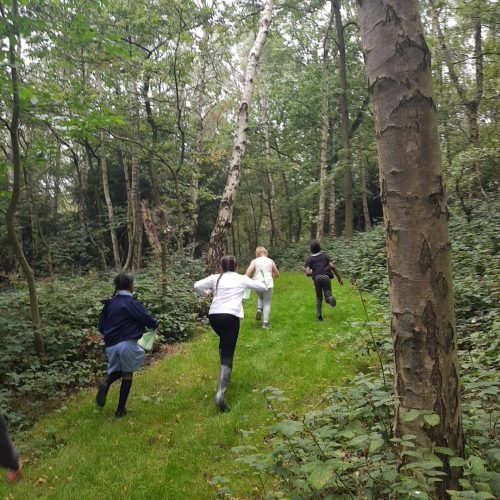 It has been fantastic to finally get children out to the woods again and the staff have reported that children have been returning to school absolutely buzzing about their time in the woods. All the teachers have been delighted that the children have finally got out and have commented on the massive strain the kids are facing and the toll on their emotional resilience and have said that to have time in a stress-free and neutral environment is essential for their emotional recovery. The highlight of our first week back for us was seeing the first group of 10-year-olds from inner-city Nottingham arrive. They came to the woods in a taxi, all wearing masks. As they piled out of the taxi, one girl pulled down her mask, looked up at the trees and threw her arms up in the air with a massive grin on her face saying: "Nature!! At last!!" This was the first time out in nature since March for the majority of the children we worked with this week and 2 of our children told us that it was their first time ever in a woodland. You can imagine how excited we are to be able to spend some time with them!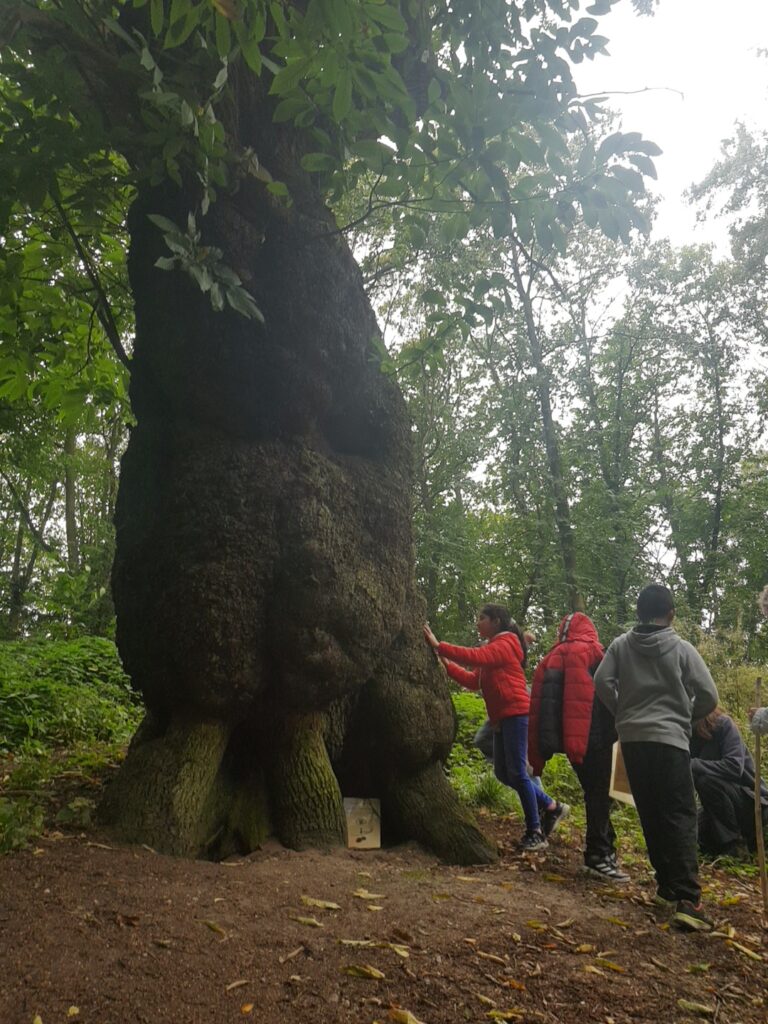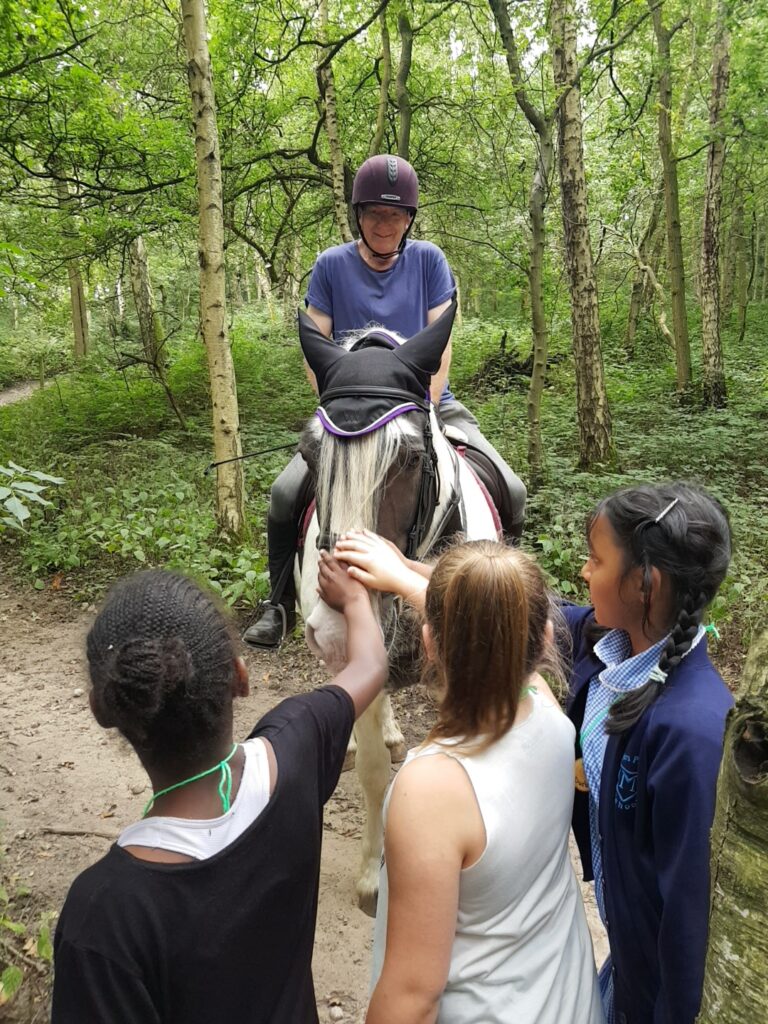 What we also found a sobering and important piece of information about how the lockdown affected some children as well, was speaking to a very quiet girl with English as an Additional Language who did not say very much and her friend explaining that she forgot all her English during the lockdown. The social isolation of children, families and communities has taken a toll in many forms and this can be one of them. That was something we did not think about before we met the child, but it has given us a lot of thought since. We want to also say, though, that whilst she was quiet at first, we were really happy to see that she was starting to chat with us and the others by the end of the session.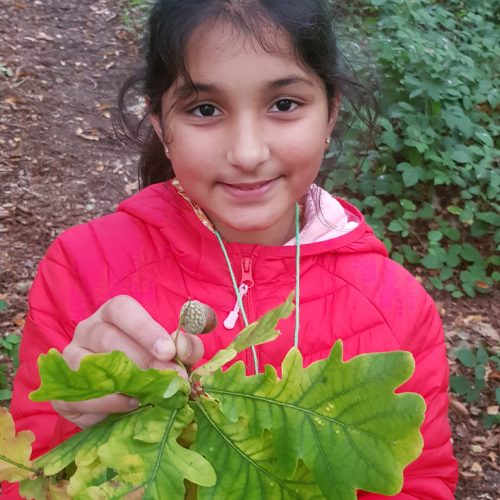 See you again soon, with more acorns and fallen leaves!
– a wet and cool Thursday afternoon, 11th June 2020 –
Here we are again, a month after our first post on our blog and a month since the publication of the article in the Guardian that has brought many people to this website. Many things have changed in the meantime, not just the weather!
We received an amazing response from the article – our Crowdfunder page received many donations, our website was visited by many people happy to donate funds as well and so many beautiful letters of support and donations from individuals came through our letterbox.
We would like to say a huge THANK YOU to everyone!
We have now managed to raise over £3000 and all of that money will go towards Wild Things running programmes in the woods with children from inner city Nottingham.
Thank you for ensuring our work continues for that much longer.
The pandemic continues, but the lockdown measures are slowly being changed, and we do not know what that will mean for Wild Things. We are hoping to get children out to the woods again as soon as it is safe to do so, to enjoy all the benefits of the physical and mental space, and to help them recover from the last few months. We are busy preparing so that we are ready to get back into action when the time is right and the groups we work with are ready. Currently the majority of funding is being directed at the very important issues of Covid Care. Accessing funding for longer term projects has therefore never been so hard. Wild Things, like so many other projects, is expecting that our precarious situation will most probably continue for a while to come.
That is why we have decided to keep our Crowdfunder going for now, and we would like to ask you to continue supporting us if you can, by spreading the word about us and our work and introducing more people to the sort of work that we do and the importance of it, particularly in these days.
We are excited about the day we will be able to report to you about the sessions we have organized with your donations. Hopefully that will not be too far in to the future.
Thank you again and take care until next time!
– one sunny Friday, 15th May 2020 –
Welcome to our new website and our first post on our new blog! 
These days are both exciting and scary for us – with the Covid-19 pandemic we are, like many other small organisations in our field, going through a rough patch of work being on hold and uncertain times ahead. We are hoping that the coming weeks will clear that uncertainty somewhat. 
But we are also excited about our voice making it through the ether of the internet again. We have just started changing our website and it will soon be complete, with all the information, photos and exciting ideas you can imagine. 
Another exciting bit of news is the fact that we have featured in the Guardian!
Last weekend an article "I feel I've come home': can forest schools help heal refugee children?" presented our work and mission to the wider public. Written by Patrick Barkham, it is an extract from his recently published book Wild Child. We have had some great responses from readers and have also received kind donations. We are very grateful for that, as the world ahead does not seem to be very clear on the future of forest school provisions and any resources coming in now will help secure our organisation for a bit longer. 
We have set up a Crowdfunder page that you can access here. If you would like to contribute, please do.
And we will see you soon with a complete website and a new blog post!